The number of people who have taken up running has increased massively over the years and if you're not running you will be sure to know someone who is. There may be millions of us running but it appears that a large percentage prefer to run alone! You may be one of those people but you may also have considering looking for a running buddy – We met up with the RunningRachels for a quick Q&A to find out a bit more about the duo and the benefits of having a running buddy.
---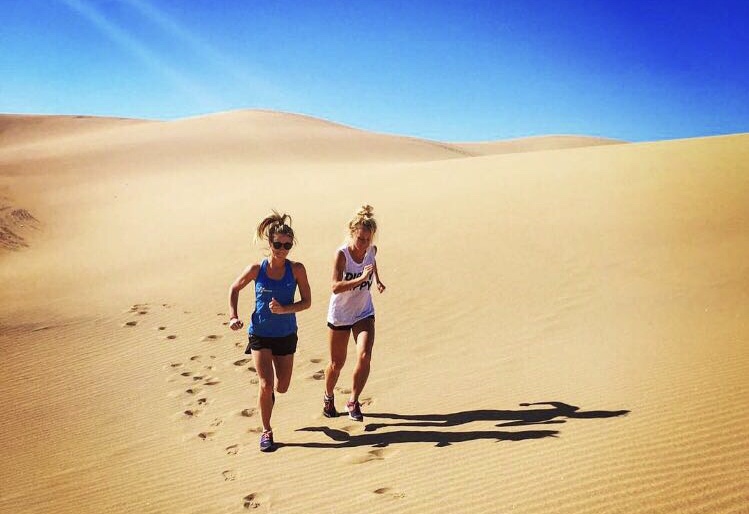 1. How long have you been running?
Rach 1: I started running and competing for my home club, Blackburn Harriers when I was 8 years old and I am now 27 so have been running for 19 years now.
Rach 2: I joined an athletics club when I was 12 as I thought I was really fast at school but I didn't focus purely on running and took part in all the athletics disciplines. I only started running middle to long distances when I was around 14.
2. Why did you start running?
Rach 1: My family are running mad so I grew up in a family who don't tolerate laziness! My Mum and Dad have both run London Marathon and my brother also ran for Blackburn Harriers, so I guess I started running not out of choice but to fit into the family!!
Rach 2: I started running because I thought I was fast!!! I beat my friend at a school sports day and asked my dad if I could join my local club. I first started competing in sprinting and won the Norfolk 60m championships and then moved to the 400m then 800m and now the half and full marathon distances.
3. What is the furthest distance you have ever ran?
Both: Marathon. We do want to try ultra distances in the near future but first want to focus on improving our respective marathon times. We are planning a bit of a running challenge for our birthdays in February so watch this space!
4. Runningrachels seem to love to run together, what are the benefits of having a running partner is?
Rach 1: Motivation and Support mainly. Rachel gets me out running even when I'm not feeling up for it and is also makes a great agony aunt!
Rach 2: Having a running buddy massively helps with our motivation. We like to plan a morning run together starting in between both our homes which starts around 7am. In the winter I know I wouldn't get up half the amount I do if Rach wasn't around. I couldn't let her run alone at 7am in the cold and dark, that's just cruel! We were introduced by Matt who is one of the Co-founders of RunThrough two years ago and have become great friends so running with Rach is also just an excuse for a good chat!!
5. Where is your favourite place to run?
Rach 1: T'up north on the moors. I also love running through woods because I feel like I'm a ninja in a computer game, haha!
Rach 2: Wells Next The Sea in Norfolk, just behind the beach there is a a pine forest with some great sand dune hills in which is amazing to run in. I usually bump into a deer or two in there!
6. What is your favourite time of the day to run?
Rach 1: Mornings. I usually run commute to work. I tend to make it as stressful/exciting as possible by sleeping in/leaving my flat late and racing against the clock to get to work on time. It is a win/ win situation, more sleep/faster running 😉
Rach 2: Early mornings as I like a run to set me up for my day and I like to feel smug that I am up and out running before anyone else is even out of bed! In the summer I love the warm evenings though, you can't beat them!
7. Are you currently training for something?
Rach 1: London marathon 2018
Rach 2: London Marathon but I usually have to cancel as it usually clashes with work so if this is the case I'm thinking New York 🙂
Our Top Running Tips:
Join a running community – try RunThrough 😉
Run how you feel, don't feel you need to run a certain pace or time just because someone else is.
Enjoy it!
You can follow the RunningRachels on Instagram HERE and see what they are up to each day and you may well catch one or both of them at a RunThrough race sometime soon!