Although I've somehow racked up 16 races so far this year, up until now I've just used them as motivation to train and something to get through on the day. That's changed this month. Sadly, I don't think there's a magic secret to this, I've just been lucky that I picked three great races to run.
First up, the Bournemouth Half Marathon. Part of the Bournemouth Marathon Festival, I entered this one as a target half to keep me training through the summer and also as my (speedy) boyfriend had signed up for the marathon. The 13.1 started very early (8am!!) to leave the route clear for those taking on the longer distance later on but the upside of this was that the light by the coast was beautiful. After about a mile and half, the route brought us out by the sea and clung to the boardwalk for the remainder, ending with a dash along Bournemouth pier to the finish line. Both the half and the full marathon were flawlessly organised and, for closed roads and a high quality t-shirt and medal, good value. Additionally, as Ed and I can both vouch for, both routes are very conducive to PBs! Another major plus was that Ed's hero, Steve Way ran the half marathon (check out his current, totally nuts, training regime here).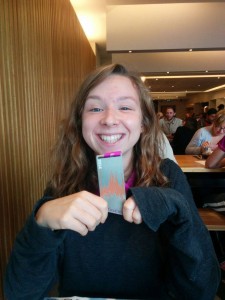 The second race of the month was The Stickler. Ed sold this to me as a small local race up the local hill. It turns out it's three local hills and is known as Dorset's Three Peaks Challenge. Past reviews of the race include the phrase "hard as nails" alarmingly frequently. Despite that, this was possibly my favourite race EVER. Great value at 16 quid including a t-shirt, water bottle and epic views. The hills were steep but short and the downhills were on some of the best trails I've run. No PB potential in this one (especially for Ed who crashed out at mile 5) but I did somehow run my fastest mile ever. Even better, there was great local support and the local runners were incredibly friendly. Huge thanks to the man who distracted me from the horridness of hill number two with a short history of the area!
The third one was the Helvellyn trail race – a 15km in two of the Lake District's most beautiful valleys. Lakeland Trails, who organise the series of races this race was part of, was set up 10 years ago by former international athlete Graham Patten, who has realised his dream of bringing the Alpine, European model of trail running to the Lake District. The events have grown considerably over the years, attracting over 10,000 trail runners last year. Races aren't cheap but for the money you get a brilliant T-shirt, mountain rescue support, shouty lovely marshalls and possibly the most scenic running in England. The video below is probably the best way to sum up the event and I couldn't mention this race without mentioning that I ran it with my Mum, who came first Vet50 female!
AAAAAnd as promised my sneaky kit review. I love love love reading running blogs but I have to admit that I usually skip kit reviews. Yup, running isn't cost-free and it's great to feel good in what you're wearing but I'm a race tee and Sports Direct leggings kind of girl. Having said that, I have recently fallen in love with Asics trainers – I ran Bournemouth in these pink beauties (Asics GT 1000) and have been tackling the trails in the long-windedly name ASICS Gel-Trail Tambora 4. If you overpronate slightly and enjoy a bit of arch support I'd thoroughly recommend both pairs.