My name is Bryan, I'm 47 and live in Horsham in West Sussex. I took up running on my 30th birthday back in 2002. I was never the greatest at school when it came to PE, being a somewhat clumsy child. I don't think I did any exercise at all from leaving school until turning 30.
Running appealed, because at the time I really didn't have much money, and almost everyone can run at least a little. So it was accessible and affordable, and that was ideal for me. I really threw myself into it. It was my sanctuary away from all my worries that I had back then. It would be 18 months before I had the confidence to enter my first race, a 10k in Richmond Park. Sixteen years on, and I can still remember so much about that day!
As time passed by, my training started to really pay off as I took my running more seriously. The weight started to come off, I looked better in the mirror and my confidence really began to grow. Six months on from my first race, I did the Rotterdam marathon and had such a tough time. I got ITBS at mile 14, and somehow managed to walk the last twelve miles in real discomfort. That's one of the things that running has given me, the willingness to grit my teeth and see things through. That was to prove a turning point, however. All those long slow runs had an effect as in the very next race I did 1:23 for the half marathon. It was a PB by over ten minutes!! What a feeling that was, I was floating on air. I didn't realise quite how fast I was going as miles 1-3 weren't marked, and I went through mile 4 in 24 minutes. It felt like I was wearing somebody else's legs.
Alas, my fast times weren't to last as real life got in the way and the training volume tailed off. But I've always come back to running, whenever times have been tough. To quote Henry Rollins, running is "always there, like a beacon in the pitch black". It's given me so many happy times over the years, I'm willing to overlook the aches and pains!
Running has taken me all over Europe and beyond. I've run through Central Park and Times Square in the freezing cold. I've run round Berlin Brandenberg Airport runway, from the Eiffel Tower to the Palace of Versailles, from Marseilles to Cassis (passing go-go dancers in pick-up trucks on the way) and over Lisbon's 25th April Bridge. From Montreux to Les Rochers de Naye (with my feet in the clouds, serenaded by alpine horns), across Prague's Charles Bridge and through Zagreb. From Roma to Ostia. Past Geneva's jet d'eau. Through a cinema (yes, I'm serious) in Ulm in Germany. Into the Olympic Stadium in Amsterdam. Over John Frost bridge in Arnhem on the commemoration of Operation Market Garden. Across the Parachute Regiment's training course with 16 kilos on my back. I've raced a mock grand national on Blackpool beach, slogged through the Sodbury mud, run down the Blackburn Road, through Tombland, along Arundel Gate and past Hoad Hill. And along the way, run for my university in the Varsity Challenge, and raised £3,000 for charity!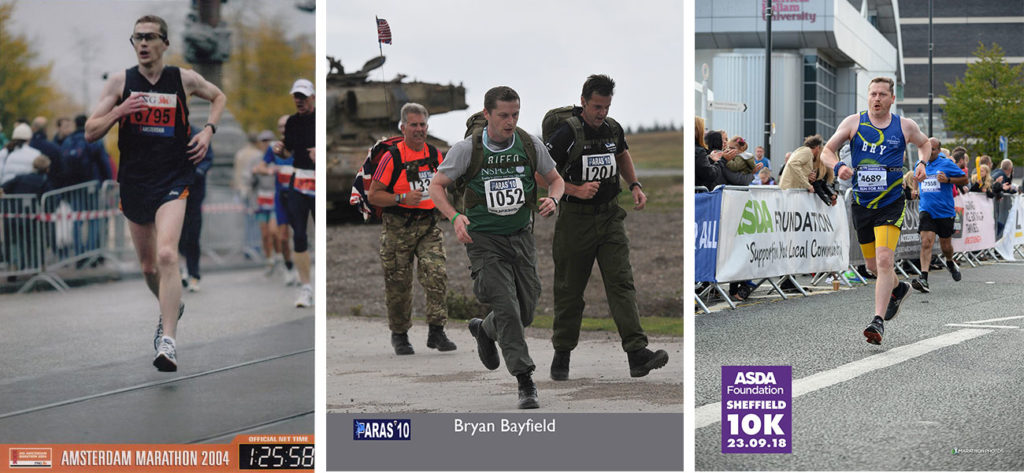 There's always another challenge out there that appeals, always something to look forward to. I'll keep running for as long as my body lets me. But even I quit tomorrow, I can always say that I was a runner. That's what I am, and this is what it's given me. And no-one can ever take that away.