Hi! My name is Francesco and I'm a coach and ultra-runner. But that's not how my story started.
I have always been physically active until I went to university. I used to play football with friends a couple of times a week during high school and that always kept me reasonably fit. However, when the time came to go to university, I moved far away from home and struggled to adjust to the new environment.
I found it difficult to make new friends at the time and this compounded with the anxiety of doing well at school. I didn't cope very well with the pressure and my health and well-being quickly became last in my priority list.
Fast forward a few years in that pressure cooker, and my fitness was completely gone, and my weight ballooned. In 2016, returning from a holiday with friends, I, almost by joke, jumped on the scale to find out that my weight had reached 100kg.
I had tried to lose weight many times but with no success. Looking back, each time any goals that I had set for myself was either not sustainable or not realistic. However, that day, when I saw the number on the scale, something clicked. How did that happen? I kept repeating that to myself.
At the time, my wife and I used to live next to Greenwich Park, so my wife signed me up to RunThrough Greenwich Park which would take place in April 2017. With 5 months to train, I was determined to get to race day and being able to complete my first 5k!
And I started with a very small and achievable goal, walking just 30 minutes every day. Then I added 1 minute of running and then 2 until I could run the whole 30 minutes. At the same time, my weight started to drop which boosted my confidence.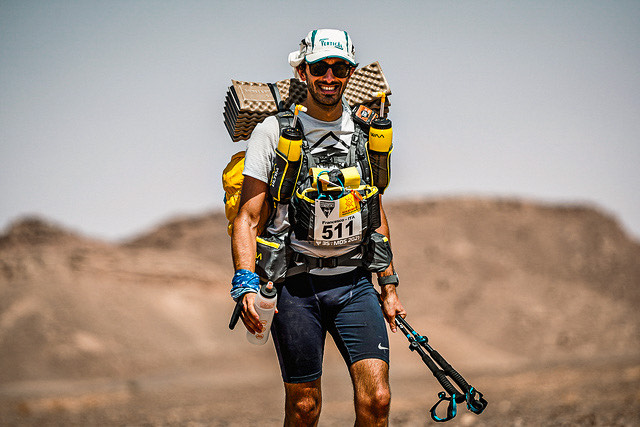 When race day came, I loved the atmosphere and friendliness of the event, and the event itself was beautifully organised. RunThrough is so magic for that: the events and the people. I finished in around 34 minutes and that hill was a real killer! I was hooked, I caught the running bug!
That race made me fall in love with running and its community, I made many friends at RunThrough. I quickly started challenging myself, I went on to run several 5k and 10k events and 6 months after that first 5k I ran my very first half marathon at Wimbledon Common. But that was just the beginning!
In 2018, I ran my first marathon, and my first ultra-marathon! And this is when my story changed, and I completely fell in love with ultras. The combination of spending entire days outdoors and walk/run unimaginable distances, like London to Brighton 100km or 100km on the Ridge Way at Race to the Stones, was something that I never thought possible!
When Covid happened, and the events stopped, I decided to reassess my training and qualify as a coach. I was very curious to learn the best way to train and how the various systems in the body interact. I also started to work with a nutritionist. And my approach to running transformed again. I fell in love with training, and I have very much become process oriented and less and less focused on the outcome. Forgetting about finish times, liberated me from any pressure.
When the events came back, I was almost another person, I broke 40 minutes for 10k, 90 minutes for half marathon and my marathon time dropped from 4 hours to 3 hours 13 minutes. Anything is really possible!
Ultra marathons also came back, and this time I had a big anniversary to celebrate. 4 years after my very first half marathon, I was on a plane to Errachidia, Morocco to take part in the "toughest footrace on Earth", the Marathon des Sables.
This is a very peculiar event, it takes place in the Sahara, where runners carry all their gear with them for 250km and sleep in a tent with other competitors. What an experience! Crossing dry river beds and dunes has been the experience of a lifetime and I'm ever so grateful to running for giving me such opportunity.
Running has taken me away from my sofa, on which I would spend entire weekends, to amazing places, it gave the chance to meet so many people, make new friends and come back with a refreshed state of mind.
I'm now on a journey to make ultra running accessible to anyone with my online coaching, where I explain the fundamentals, build progressive training plans, help athletes with their kit and encourage them so they can perform and above anything else have fun.
You can get in touch with me via my website WeRunUltras.com and sign up to my weekly newsletter, Ultra Sunday, where I share my ultra running adventures and training tips or get in touch with me on Twitter (@We_Run_Ultras) where I'm most active these days.
Happy running everyone!