My name is Maccartney Cruz, Mac for short. I am 23 years old and running has taught me that I'm capable of so much more than I ever imagined. If you told me I would be in the position I am in now last year, I would have not believed you at all.
Back in September 2020, I was suffering with mental health problems after losing control of myself. I constantly thought negatively and felt stuck in a negative spiral. I thought I could fight through it alone, but my negative thoughts became uncontrollable. I was in a dark place reaching to the lowest points in my life. On the outside it may seem like I had everything: a stable job, graduating twice at undergraduate and masters. In reality, I felt like I had nothing; an empty hole filled with negativity.
I was losing my desire to fight back and take back control of myself. I felt lost. It may have looked like I was attention seeking, but nobody can see what your mind is thinking. I just did not want to live anymore. After attempting to end my life, I knew I needed help, and this is where my life completely changed. I spoke to my supervisors at work openly about my problems and what I did. At this point, I felt all the negative weight being lifted off my shoulders and I had my mind set that I wanted to do something about it.
Time is the best healer and I took 3 months off work to recover. I went to many different services talking about my problems which changed how I viewed myself as a person. I was told I have come too far to ever give up. I will always be thankful to all the support I had at my lowest moments in helping me come back stronger. When I was ready, I wanted to be open about what I had been through to try to help people suffering in silence. I hope to show others that there is nothing wrong with asking for help to get better again.
Running changed my life during my recovery. I started jogging casually at first just to keep fit. My first 5K time back in September 2020 was 28:29. I then got involved in Movember to grow a beard and partake in a challenge to run 60km in a month for the 60 men we lose to suicide every hour. I decided to do 60km per week instead which totalled to 250km for the month. During this period, my first attempt at a 10K was 1hrs 06 mins.
This then prepared me for my first 5K Race in December 2020 at Clapham Common. I thought I would try racing with other people. I gassed out early due to the excitement of my first race, but I was pleased with my time of 21:40. I learnt a lot from my first experience moving forwards. I wanted to work on my 10K running and sign up to more races in 2021.
My intention for 2021 is not to become someone new but to continue developing the person I am. I believe in myself more and appreciate things I have in my life now. Keeping fit, healthy, maintaining a routine and working towards my goals are my medicines in managing my mental health. I returned back to work at the end of December and my running journey helped me improve my everyday life. Once I managed everything with work, fitness and personal obstacles, I felt fully in control of myself.
Running gave me the opportunity to pick myself back up, making me feel mentally strong and feeling fit. I enjoy the challenges of running as it keeps me happy and allows me to not worry about anything else. Every time I finish a run, I tell myself I feel great now. Exercise sets off an endorphin in your blood which makes you happy. I don't suffer from mental health issues when I am active or when I have a goal.
My method of staying motivated and keeping fit all year round was to set a challenge of 12 Races in 12 Months for 2021. Every race I take part in would be significant to a long-term goal. During my recovery, I set a goal of running a Half-Marathon in April 2021 as a challenge to work towards and prove I can do it. To help prepare me for the Half-Marathon, I had to run throughout lockdown. This was difficult as races were postponed and virtual races were the alternative. The feeling of virtual races is not the same as in person. However, the virtual races did help me progress towards Half-Marathon race day.
In January 2021, I started the New Year with the right mindset and reached a new 10K PB – Time 43:31. Unfortunately, at the time the 10K event at Olympic Park was cancelled due to restrictions. I was still pleased to do the virtual run on the day of the event and get my PB. I knew it was going to be a big year ahead for me.
The focus for February 2021 was on longer distance running. I signed up to do a virtual Half-Marathon in February 2021. I was feeling positive at my first attempt at 13.1 miles. At that point, I achieved a time of 1hr 41 mins and it was my toughest run. I had aimed for a Half-Marathon time in April of a Sub 2 hrs but progression made me believe I can achieve a Sub 1hr 40.
The start of March 2021 was difficult as I took 2 weeks out running due to impact hip pains. I had overtrained in February as the long-distance running took its toll on my body. I realised rest & recovery was just as important as running & eating healthy. I returned back to full fitness post hip injury by running a 5K Virtual Race and reaching a time of 20:26. More lessons were learnt for training in the months to come but I was happy to be back running again.
I trained for 17 weeks for my Half-Marathon race on 24th April at Lee Valley VeloPark. My mindset was not to focus solely on time but to enjoy every mile of the 13.1 miles run. The aim was a sub 1hr 40 and I was very happy with achieving 1hr 37mins. I gave it my all to complete this goal after everything I had been through. I dedicated this Half-Marathon race to all the people who helped me overcome my struggles.
Back in January 2021, I was given the opportunity to run my first London Marathon for the charity Mind this coming October. Running the London Marathon is my way of spreading mental health awareness and sharing my story. I'm excited to take on the London Marathon (26.2 miles) with the large crowds and fundraise for Mind. Based on my current progression, I believe I can run the Marathon in Sub 3hrs 30 mins. When I set my mind to do something, I'll do it. Even when it seems so unthinkable, I can do it. I feel as if I am climbing up a ladder with my running challenges and I am proud of every step of my journey so far.
My first 5K Race back in December 2020, I made rookie mistakes and achieved a time of 21:40. In May 2021, after the Half-Marathon I focused on shorter distance running and entered a 5K Race at Battersea Park. I got a Sub 20 mins – 19:39 and dedicated the race for Mental Health Awareness Week. I couldn't believe I did it. I would've never thought of a 5K time under 20mins from the start of my journey, 8 months ago. This race showed me how far I've come since then. Hard work and dedication does indeed pay off.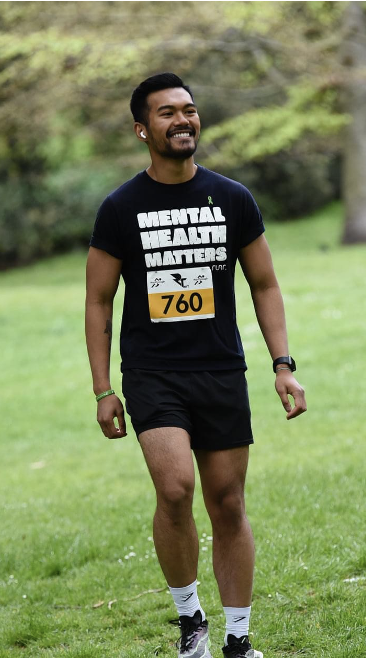 It is important to continue spreading the word of mental health as you cannot see it or feel it. It can be difficult to understand unless you've been through it. For someone who's suffered with Mental health, the feeling of being alone is not spoken about enough. This is why I'll always spread the word on mental health for when other people are in this position in the future they know where to go as there is always a way back.
Anyone out there suffering with mental health problems can come back from struggling and it can be done. If I can come back from being at my lowest point, then anyone can do it too.
Let's fight for better mental health together!
My running journey can be viewed on Instagram – @one_macca
You can donate and support me running for Mind Charity at the London Marathon in October using the link – https://uk.virginmoneygiving.com/MaccartneyCruz