Marijke is an annual season pass holder who attends events week after week, but that wasn't always the case. In 2010 she was diagnosed with MS and from that day took it upon herself to adopt the sporty gene. In 2016 she set herself the challenge of running 1000 miles in a year and this is her story!
I used to be a total couch potato. Yes, I took the occasional dance class, but I always hated sport, especially the kind you had to participate in at school. Until 2010, when I was diagnosed with MS and I was told that I really had to start doing sport. You'd think the MS was bad news? Now I also had to do sport! Obviously, the whole thing was quite upsetting. Yoga was recommended for me, and having started my teacher kept telling me how amazing running was, and helped by some Race for Life inspiration I signed up for my first run in 2013. Since then, I was hooked and did my first half in 2015. Having entered more and more events, I was looking for a new challenge. At the end of 2015, I found one: run 1000 miles over the course of one year. That would equate to about 5K a day, and as I had some longer distances scheduled, it should be doable and so I started…
The year began with my first ever Parkrun on 2 January and as the Hampton Court Palace Half Marathon was looming, I started a training plan. I'd somewhat underestimated the distance before so this time I wanted to be prepared. The good part of that was that I was running a lot, sticking to the schedule while fitting in lots of Parkruns, RunThrough races, and RUNches. At this point I'd been running so much that I became comfortable with the distance (something I never thought I'd say) and I ran 3 half marathons on three consecutive Sundays, even getting a PB at the last one, The Hampton Court Palace Half Marathon. What a difference from the year before!
At this point, I'd run about
160 miles
and it was nearing the end of
March
. Not exactly on schedule. I wasn't sure how to get the distance in that I needed without overdoing it. When we went on holiday to Thailand, we stayed in the small town of Chiang Mai, which has a city wall about 8K long.
No need to tell me twice!
We were only there for a week, but as soon as I'd found this route I was on it nearly every morning
.
Yes, I was running the same route every day, sometimes taking in a bit of the park as well, but I also got to know the layout of the town, not to mention international running on my Garmin!
Once back from Chiang Mai, the question of distance was still an issue. I'd signed up for more events, so besides the RunThrough races that I loyally attended whenever they were on, I also found some events outside of London or even virtuals. Bling is a must sometimes, and these were great! By the end of June, not only had I solved the distance problem by running various distances to and from work depending on which tube stop I got off at, I'd also completed amazing runs such as Wings for Life where you run against a chaser car (how cool is that!), and had 3 PBs in 3 consecutive days, as well as my ultimate PB for a 10K that I have yet to beat. I was up to 380 miles!
As the weather got better and better and I hate running in the cold, I really enjoyed the running to and from the office, and could easily get between 6 and 8K in every day just doing that. What I'd started to realise earlier on, is that longer distances are great, but having to do them for one year is extremely daunting. So doing small distances every day was much easier to maintain and it would still get me to my goal. This was also the time I discovered a virtual running group that had monthly challenges. You'd have to run 100 miles a month to get the medal! I really needed the incentive, so for the last six months of the year, I signed up for those as well as it really made me aim for that distance.
July and August were pretty basic with the usual weekend events, weekly RUNches, and run commute. That really made such a difference that by the end of August, I was up to 600 miles. Suddenly finishing this challenge became something I could actually achieve.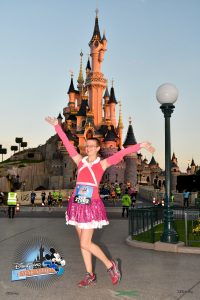 One of the biggest events of the year for me came at the end of September. I had signed up for the
Disneyland Paris half marathon.
My entry was jinxed, everything that could go wrong, went wrong. I was away when registration opened, so it was all done over the phone between the Disney booking centre (why they didn't have an online option is beyond me really), my partner in the UK, and myself via whatsapp. A little more stressful than I would have liked to be honest. It was not a run to get a PB, there were too many things to see! The first
5K run
went through the Disney parks and there were characters everywhere that you could be photographed with. I think the first 5K took me about 45 minutes, but the pictures are great, especially as I'd come in my
Cinderella dress!
Then the next
10K run
went through the French country side, with the remaining distance through the hotel bit of the park. It finished in a parking lot though, which was not very exciting, but then again,
I'd just run Disney
! I wore my medal proudly for the rest of the day while visiting the parks. The Disney medal is still one of my favourite ones to this day!
October came and so did Halloween which meant I signed up for every Halloween run I could find. I was starting to feel the strain this constant running was putting on me. Not only did I have to make sure I didn't get injured, I also had to keep going to reach my 1000 mile goal. For some people this distance is easy, I've seen some people who do this in two months or so. I'm nowhere near their level and by mid-November I was starting to struggle. I'd done a half in Uxbridge along the canal and while it was beautiful, it was so difficult. I finished about 10 mins slower than my PB so still a very acceptable time, but I would have loved to have enjoyed it more. In a final attempt to finish the Velodrome half marathon, I signed up again nearing the end of November. I started out quite well, the aim being to finish rather than setting a great time, but after four loops my ankle popped and it became a struggle. A friend did a different distance and we met on the course where he gallantly proceeded to carry my poor injured self across the finish line, having completed only eight miles. By this time I was at about 915 miles, so nearly there. I just had to keep going!
December was great with all its Christmas runs. I think I did 7 of them! By the middle of the month, I was getting eerily close to the end of the challenge, when I discovered something intriguing. I'd signed up for the 1000 mile in one year, but I'd also signed up to run 100 miles in one month. This would be fine but in December I realised that I would finish the 1000 miles challenge before I'd finish the 100 mile challenge! So effectively, I would have to run more than 1000 miles. Not exactly what I was expecting. Nonetheless, I'd signed up for it, and I would do both! Ideally, I'd finish the 1000 miles just before Christmas, therefore utterly deserving a proper pig-out, and do the rest before the New Year. Calculations began, and an idea started to form. What if I were to run a marathon distance to finish the challenge? There was no way I could sign up for a last-minute marathon, so I plotted the route, informed some friends, and I was set. On 22 December, I set off from West Ruislip to Greenford and via the canal path to Tower Bridge. It was tough, it was cold, and I kept chatting with people who were randomly stopping me, so I was really not in a hurry. At the 30K point in Camden I had lunch in the form of a sandwich along the way, and in Angel, a friend came to pick me up to join me for the last leg. At this point I was done, I was running maybe 200 meters and then walking again. I had hit the wall big time. Luckily, my friend didn't mind, and we slowly made our way to the main road where I eagerly awaited to see Tower Bridge. I couldn't believe it when I saw it appear at last! We ran up to the bridge where my 'finish line' would be touching the actual structure. It was phenomenal. I was elated that I'd finished the marathon distance, and with that my 1000 miles in one year challenge!
Over the next few days, we would have Christmas with lots of food, and I'd finish the last bits for the 100 miles in one month medal. In total I've run a little over 1,021 miles in 2016!
I think the idea of not 'having' to run all the time to get the distance in, meant that 2017 has been quite slow and I've been rather lazy in comparison. Not having to run feels amazing. I still love it, don't get me wrong, but sometimes taking the bus to work is lovely as well. Since January this year,
I've had two new PBs, one for a 5K and one for a half marathon
, and while I'd love to get one for a 10K as well, I'm ok with it if this happens next year.
1000 miles is far, but I did it!
[tie_slideshow]
[tie_slide]
[/tie_slide]
[tie_slide]
[/tie_slide]
[tie_slide]
[/tie_slide]
[tie_slide]
[/tie_slide]
[tie_slide]
[/tie_slide]
[/tie_slideshow]