We found out at our 20 week scan that our baby has two heart defects, these are operable and he has a high chance of survival and living a normal life with a few small adjustments/restraints. When we found this out it obviously impacts you massively, and post some counselling and guidance from the doctors at Addenbrookes Hospital we decided the right thing to do was to tell our kids.
By this time I had decided that I wanted to make a difference myself and signed up for a marathon (I had never run one, or gone over 13 miles at that point) with only 8 weeks to train for it. My kids are also keen runners and participate in their local junior parkrun and asked me if they could do some fundraising too. What followed was the most rewarding experience as a parent I have ever had, watching them train in the cold, tell their friends about the fundraising and the build up towards the big day was amazing.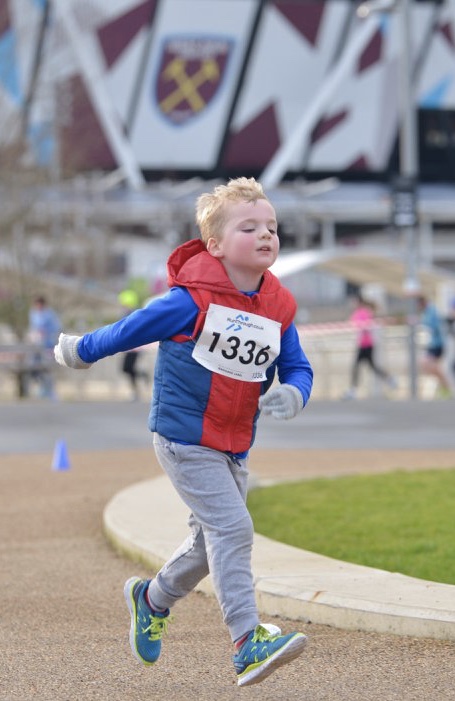 On the day it was cold (2-3 degrees), but we were really encouraged by the professional set up of the "athletes village" and the backdrop of the olympic stadium/olympic swimming pool made it really special for us all. Oscar (5) tore off at the start and the bulk of my race was running in between Oscar and Lily (7) to check both were ok/hydrated etc!! Lily caught Oscar at about 4.5km as she paced her race slightly better, and then the following dialogue took place:
Dad – "Lily are you going to run ahead of Oscar now?"
Lily – Thinks, then whispers in Oscars ear…
Lily/Oscar – "We are going to cross the line together holding hands…"
Kids really look at things from a different perspective, I was just proud they had got round without stopping, but they wanted to finish as they had started and as they had trained, together…
I got my wife on facetime as I ran behind them across the line, and the announcer did a great job of telling them "well done for beating dad" which kept them going all the way home!
I have taken a lot of strength from my kids actions and behaviour and learnt an awful lot from them..
I got around the marathon course myself by the way, but that's a footnote to the story and not what I will remember the last 6 weeks for…
For the Bolton Family fundraising page click HERE