What we have been asked about this week/Training specific suggestions
It's not just marathons that are doing it, more and more organised runs are now offering pacers to get you round the distance, but what are the benefits of running with them? 10 Reasons to Run with a Pacer. READ HERE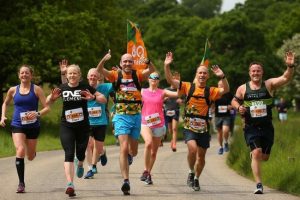 Common injuries that can be prevented if you know how
Did you know that you have two calf muscles? Which unfortunately means twice as much chance of a strain, although they do present in different ways. Hopefully this article will help you work out which is which, and what you should do to sort it – Calf Strain – Diagnosis, Treatment and Rehabilitation Exercises. READ HERE.
Nutritional tips or yummy recipes
With lighter evenings we're finding it more enjoyable to run after work, but that means a later supper, or a lighter one. Here are some nice alternatives to a full evening meal to enjoy after your run. READ HERE
Most interesting blog/article we've read in the past week
Following on from mental health week we thought this article might be of interest. It turns out resistance training doesn't just make you a stronger runner. READ HERE
Upcoming Events
RunThrough Lee Valley VeloPark – Sat 26th May @ 9am. Last few spaces available here.
Run Dorney Lake 5k, 10k & Half Marathon – Sat 9th June @ 10am. Enter here.
And don't forget to head down to Clapham Common tonight for our intervals (7pm start). If you're running late drop Clare a text on 07974777553 and let us know, and you can meet us at the bandstand. (Address: Outside the the Windmill Pub. Clapham Common South Side, London SW4 9DE).
RunThrough is now recognised as an official run club through England Athletics. You can sign up for 2018/19 membership through our shop or via this form, or why not buy one of our fantastic RunThrough club hoodies (pic below) at the same time here. Any questions, please email [email protected]