Dani Dasgupta tells us about her experience of the Snowdonia Trail Half Marathon which she completed in July.
Arriving at the land of the sheep
On a Sunday morning it was the should I wear capris or leggings, a long sleeved t-shirt or running jacket decision; I guess that was the usual last minute panic judging by Britain's weather on the weather app and preparing for the worst. Yep it was that moment where you think what possessed me to sign up for an event like this but then feel an element of gratefulness for the fact that the hotel served porridge for breakfast and the fact that it was a 5 minute walk to the start. They say perhaps fear vs excitement? That Saturday night I had driven up to Llanberis in the Snowdonia National Park, North Wales ready to run the Snowdon half marathon.This was my first mountain half and second trail marathon so I admit I was not sure what to expect. I climbed Snowdon as part of the Welsh 3 peak challenge 6 years ago and struggled big time but hills like Box Hill didn't compare.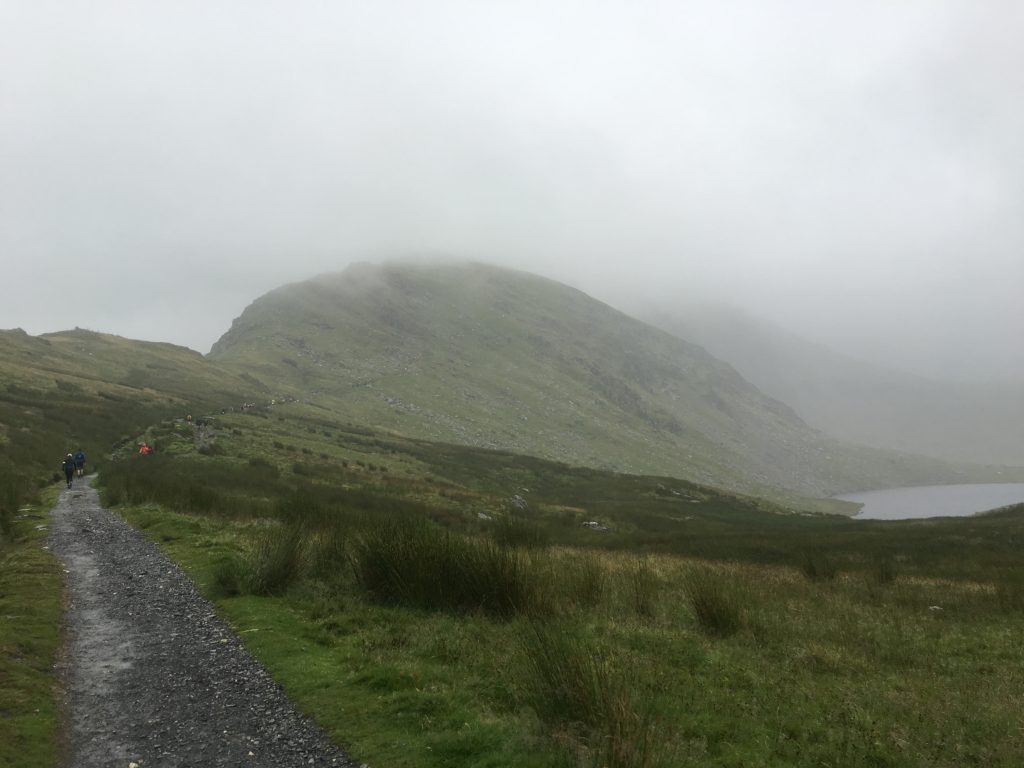 I'm just your average runner….
The race started with a safety briefing at 8.45am, 'do you have all of your mandatory kit including water, waterproof clothing, hat, gloves and energy gels?' was the rhetorical question asked and 'look there's an emergency stand selling this gear just in case' pretty much was the extent of the briefing and then the final countdown commenced. I was a bit worried when I saw people with trail backpacks, camelbak bags and quite fancy gear when all I had was my running belt and had pretty much set up to travel light…..I guess slightly feeling naked as a runner in the world of running gear.
The great escape
9.00am we set off and guess what, it was uphill from the start. We began a gradual ascent along slightly winding paths past fields of campers and then surprise surprise some sheep! Rain was spitting from the start which was quite refreshing but then the wind set in which added to the subtle recreation of Everest feeling. Following the fact that I had not checked the map beforehand I thought we were beginning to climb Snowdon. But guess what, we ran back down the first peak (where my Saloman Fellraisers were put to the test running downhill on wet and muddy grass) and then we began the real Snowdon battle. The rain decided to then join us and after stopping to indulge half a pack of Shot Bloks one foot got totally soaked due to the direction the wind was blowing the rain and my running jacket was pretty much sticking to me. Fortunately hikers praised us and other runners began to encourage each other as things got harder. This was totally a new experience in the world of running. A third of the way up from the summit 2 cyclists on their mountain bikes had even decided the weather was not on their side and turned around and headed back down!
Roughly 1,085m above sea level
Finally at the peak the marshals reassured us that it was downhill from then and the adrenaline rush kicked in. They checked us off to confirm that we had not been gobbled up by sheep or blown away and we then continued on. I ended up running with 2 other girls, one of which had a boyfriend who was doing the full marathon and another who had been possibly left behind by her friend. We had a chat and started the descent together therefore knocking a mile off the distance left. Another mile later we found we were running at different paces and split up, especially as my shins were telling me they hated me whilst I tried to run down wet rocks, slate and gravel trails which we didn't have back at home. My feet were soaked and I admit I was starting to become a bit peckish at this stage!
Optimism
A slight competitive streak came out when catching up with a couple of other runners who had set off before me and then obviously the good old overtaking of them meant the pressure was on to try and stay ahead. Downhill was actually harder than uphill. Uphill the trick was to mentally push yourself (it was a bonus not seeing the peak to think OMG there's even further to go). With 2 stops to have Shot Bloks and an energy gel, it felt like reaching a finish line just getting to the top. The descent was more technical, you had to use your mind to think where was best to land your feet, how not to slip over and make a scene and how to make sure your legs would still be capable of driving for 6+ hours later on to get back to London. There were also a lot of streams running downhill so it was a good idea not to run through those otherwise squelching trainers would appear. Most importantly, speed was not your friend here especially as running too quickly could result in injury. Dry trail conditions and wet conditions have to be treated differently especially as you almost have to run differently to accommodate these conditions. My trainers seem to love the mud and are not too keen on large rocks whereas I like soggy grass conditions which feels more like running on carpet.
It's all going downhill?
We came back down via the Llanberis path which is what normal hikers would use to climb Snowdon. The tarmac footpath for a mile after that was a killer, road trainers were missed dearly and all you prayed for was some grass no matter how muddy to absorb the impact of each stride. This path was a bit busier and the mountain train even went past (which I swear I must run faster than?!)
Coming towards the final 5k race, I chatted to a guy who was in his 50s and had done 35 years of trail running. He was very inspiring and has influenced my approach to doing more trail running. We then reached a hill equivalent to Box Hill which had what seemed like never ending stone steps, I buddied up with another runner and we pushed each other to keep going until we got to the top. There was then another mile to the finish line and the feeling was incredible being cheered on by locals. 4.17.44 was my final time which considering I trained in Wimbledon Common and Richmond Park for this event was hopefully respectable? Two weeks beforehand I had completed my first ever trail half in the Surrey Hills in 2hrs 32mins but that was hardly running up a mountain. Going forward I don't think I'd want to do the full marathon here but a trail marathon and then an ultra is definitely on the bucket list! Moral of the story? Challenge yourself, try something different….it's good often to quite literally come out of your comfort zone.