On Saturday 29th July, Kenyan runner Paul Selian broke the course record at the RunThrough Battersea Park Half Marathon in a blistering time of 1:05:18, taking nearly 3 minutes off the previous course record of 1:08:11 set by Nick Bester in January of this year.
Paul, who only made the decision to run on the eve of the race, has a number of exceptional results to his name including a lifetime best 5,000 of 14:08.5 and lifetime best 10,000 of 29:12.6. The record setting Battersea Park Half Marathon run was Paul's first race in the UK and "greatly enjoyed it."
The RunThrough Battersea Park Half Marathon is an ideal venue and course for running fast times, consisting of 8.5 laps within the pan flat park, all of which is marshalled and controlled to keep members of the public out of the path of all runners. Lead bikes were on course to ensure a smooth flow of running traffic for Paul, fast club runners and all other runners on course.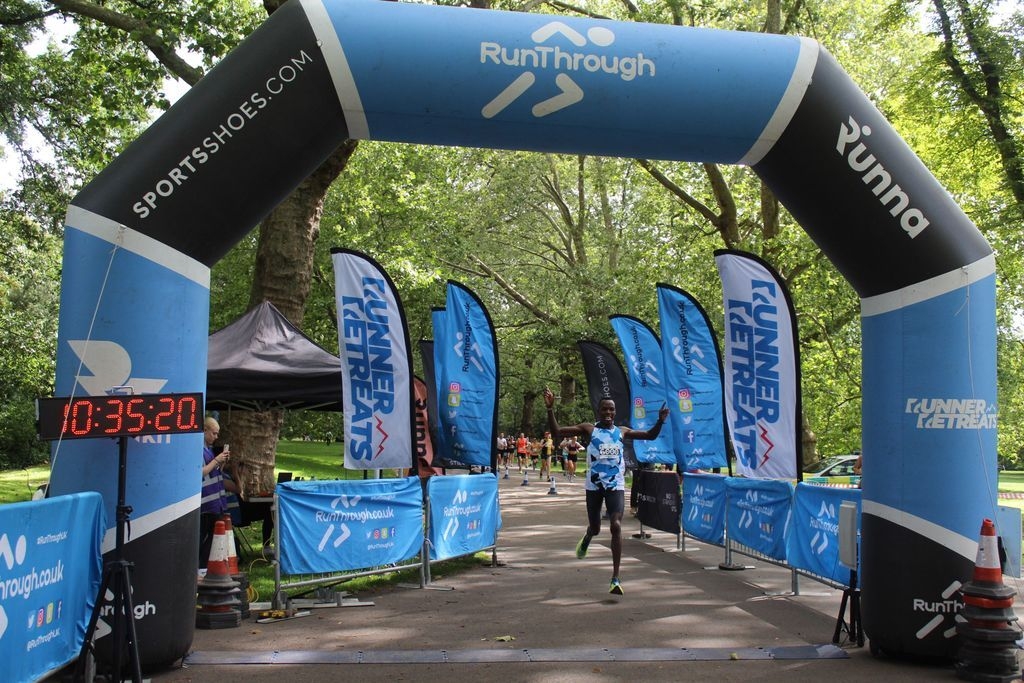 Paul, whose home is Masailand, Kenya, is visiting the UK and will be based in London for the next three months as he trains and will be looking to target further races. Following the race Paul said that he "liked the race venue in Battersea Park very much and I enjoyed seeing so many great people racing. I hope to come back for the next Battersea Park Half Marathon and also run in more RunThrough races while in the UK."
Other runners out on course and spectators alike were in awe of Paul's incredible 3:05 min/km average pace, looking as though he was out for an easy Saturday run gauging his external perceived effort. After Paul had crossed the finish line, while walking through the finish chute back to the event village he received a round of applause from all spectators lining the barriers, all in awe of his mighty performance.
Matt Wood, Co-Founder of RunThrough, commented: "Firstly, congratulations to Paul for his incredible run and breaking the course record this morning at the Battersea Park Half Marathon. We are so proud to have built a national portfolio of over 215 events all of which are trusted by amateur and elite runners alike for providing the best possible running and racing environment. We will look forward to welcoming Paul back to another one of our events in the near future and hopefully see him break more course records and shave time off his own PBs!"
RunThrough welcomes athletes of all abilities from beginners to elites to all events held across the country and any elite athletes wishing to run should contact [email protected] to gain elite entry.
For Further Information
Press Contact: Jamie Dellimore, RunThrough PR & Comms Manager E: [email protected]