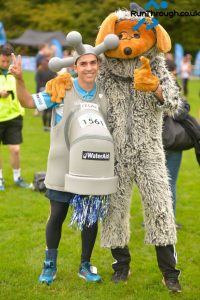 Cesar Mendez recently joined us for the final Wimbledon Common Half Marathon of 2017, and to say he stood out would be an understatement. He came dressed as a tap! We asked him why and he went on to explain he was with us to help raise vital funds for Water Aid and here is his story.
My dad suffered from cancer so when I moved in London and I just wanted to do something to give back to the community.
After the move I set myself a challenge and up to this day I have run 10 marathons in ten different cities around the world including: Stockholm, Oslo, Venice, Miami, London, New York, Barcelona, Berlin, Chicago and Honolulu all to raise funds for various charities. So far I've raise more than £10,000!
I'm also a community champion as HSBC so I do a lot to raise awareness and funds for Water Aid, which last year Involved me running a half marathon wearing a toilet costume (can you see the theme coming). And in 2017 I signed up for 3 challenges specifically for Water Aid: The 26 Miles rowing boat race in the Thames, The RunThrough Wimbledon Common Half Marathon and Marathon 11 in Bagan, Myanmar this November. So far for these three events I've raised a total of £2,000!
I have become incredibly aware and astounded that 663 million people don't have access to safe water or sanitation and only 1 in 3 people in the world have access to a toilet. So my mission is to raise awareness and to support the Water Aid campaign to ensure these is enough water and toilets for everyone everywhere by 2030.
(As quoted on the
Water Aid
website, 2017)
I believe that Our time is short so the more we do the better!
Cesar is currently in Rwanda volunteering at an orphanage – yes we are sure you will agree he is amazing and we hope that he continues to fundraise and help wherever and whenever he can. Also if you see a runner dressed up as a toilet, tap, shower, bath, sink… (we could go one) head over and say hi!