Greg Langham took part in our Hyde Park 10k in January dressed in full ski gear (including the boots!) – he tells us more about he took on this challenge…
Name: Greg Langham
Age: 33
Location: London
Favourite distance: 1/2 marathon
Favourite running shoe: Asics for road running and Salomon for off-road
I ran the Hyde Park 10k race in full ski kit, including ski-boots, to raise money for Skiing with Heroes, a veterans charity that supports injured soldiers. Skiing with Heroes provides these brave men and women with a sense of purpose, mental & physical rehabilitation and an opportunity to get back into mainstream life and employment.
The programme is designed to give the Veterans the chance to regain lost confidence and rebuild their fitness and strength, to help them re-enter the world, post-injury. I will be supporting as a ski-buddy for their week of 'ski-habilitation', which is only the start of a year-long programme of mentoring, pain management and the searching and securing of jobs and work placements.
When I heard about SWH, I felt that it would be a great fit for me and started to think up some suitably crazy ideas for fundraising. I wanted to do something that I thought would be a genuine challenge for me, so I decided to run a 10k race in ski-boots. Idiot.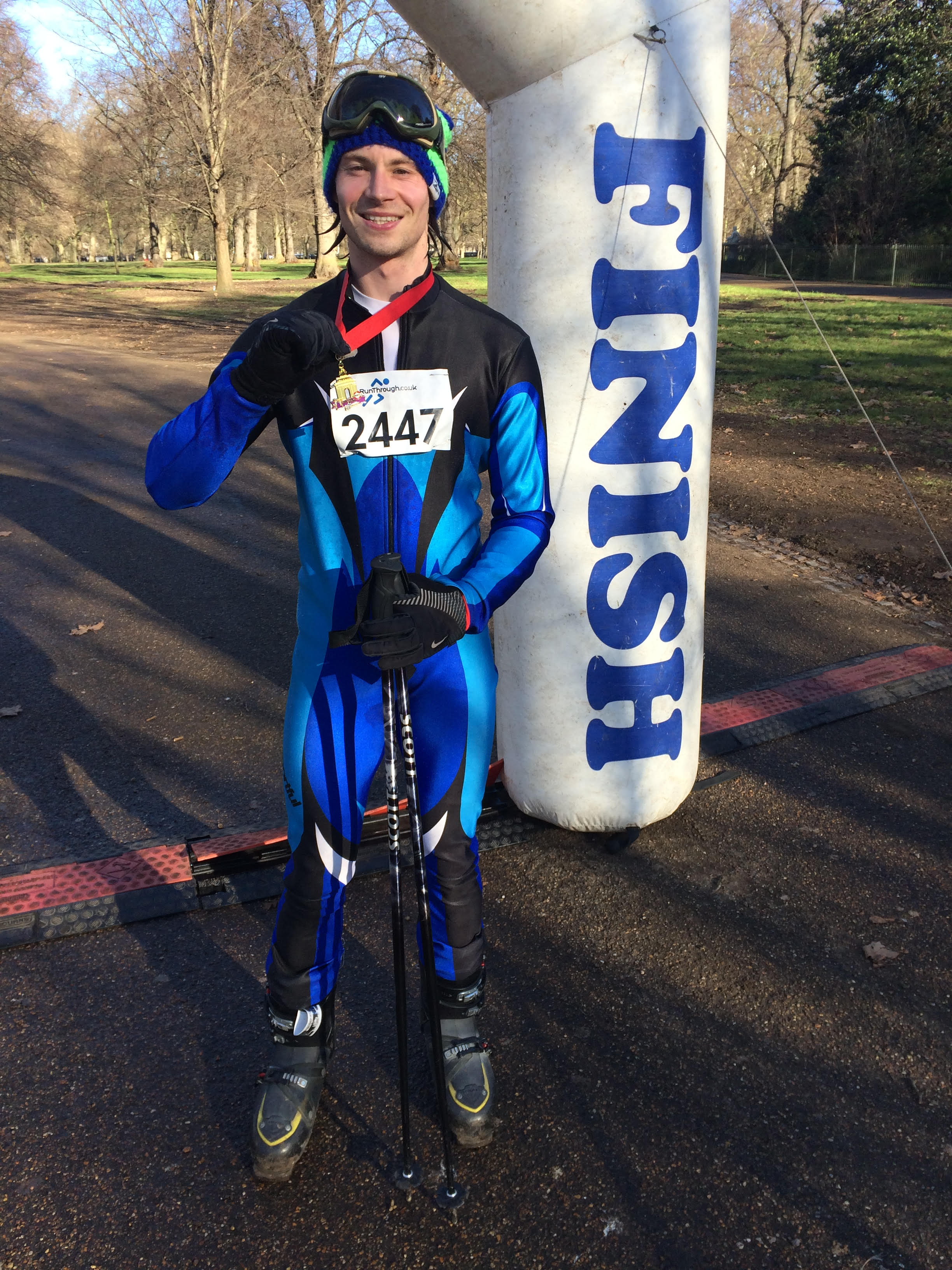 Having told a number of people about this idea, it was too late to back down and I ended up booking the race and starting my training (wearing ski-boots around the house and out walking in the Surrey hills).
The day of the run came and I donned my Lycra race-suit, goggles and ski-boots, picked up my poles and headed to Hyde Park to the start line. I'll be honest, it was tough going. After 5km, the pain was bearable, but I felt absolutely exhausted. I had some water and flapjack and was able to get back up and running. By 8km, the pain was really kicking in. My shins felt like they had been used as an extra in a Bruce Lee movie, my calves were tightening up and lifting each foot with the extra weight of the ski-boot felt like wading through treacle. With 200m to go, the blister on my left heel burst and I thought that my legs were going to give way, but I managed to stagger over the finish line and complete the race.
With the race over, it was time for champagne and medals and although it was a painful experience, I managed to raise nearly £1500 in donations, so it was well worth it!
You can see Greg's fundraising page HERE.