Kieron Fosher turned to running after suffering from anxiety and suicide attempts. He ran the Brighton Marathon in 2016 and was bitten by the running bug, realising it really helped with his mental wellbeing. He's taken part in several RunThrough events this year and tells us a little more about his story…
Name: Kieron Fosher
Age: 32
Location: Maidstone, Kent
Favourite distance: 10km
Favourite running shoe: Asics
Favourite clothing brand: New Balance
Approximately 3 million people in the UK suffer from an anxiety disorder, with over 6,000 suicides reported in the UK and ROI last year. Male suicide rates consistently remain higher than female rates in the UK, and many believe this is because men struggle to speak out about their worries, concerns and issues.
In 2016 I attempted suicide 3 times due to the breakdown of a relationship in November 2015. I had a mental breakdown and ended up losing my job as a result. However, I decided to run the Brighton marathon in 2016 and bought myself some (very cheap and nasty) running gear. I didn't have much time to train and on the day I didn't know what to expect. I finished in 4 hours 10 minutes which was far quicker than I anticipated.
This gave me the running bug. I fell in love with running. My biggest breakthrough was realising and accepting that I suffered from severe anxiety; the panic attacks I frequently suffered from made me research in to anxiety. I was prescribed medication however didn't want to take it, and this is when I realised that running could help with my problems and improve my life dramatically.
Two more attempts at suicide followed after the Brighton marathon but the organisation that saved me each and every time were the Samaritans. The Samaritans offer a safe place to talk about anything that is getting to you. Just a simple call to them saved me, I definitely wouldn't be here if it wasn't for them. So, this year I am running the London2Brighton challenge – 100km from Richmond Park to Brighton in one day in order to raise money for the Samaritans. A lot of my training involves your amazing RunThrough events and I plan on running at least one of your events per month this year (I've done 2 already!).
[tie_slideshow]
[tie_slide]
[/tie_slide]
[tie_slide]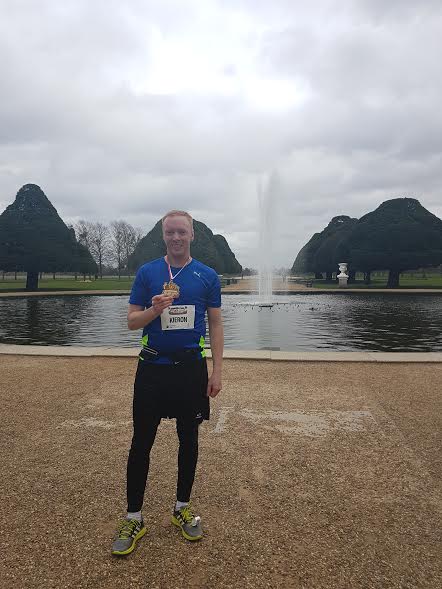 [/tie_slide]
[tie_slide]
[/tie_slide]
[/tie_slideshow]
Kieron doesn't find running easy, each and every mile can be hard work, however it has helped to give him a positive attitude and outlook on life and has all but cured his panic attacks. Kieron feels it is important to share his story to demonstrate that people suffering from anxiety or any type of mental illness should speak out about it rather than feeling the need to shy away from it. You can follow Kieron's experiences on his Facebook page HERE.
You can visit Kieron's fundraising page for his London2Brighton challenge HERE.