Melissa Fehr recently took part in our Chase the Sun 5k on Clapham Common as warm up for the World Transplant Games held in Spain at the end of June. Melissa will be representing Team GB in several distances; she tells us her story.
Name: Melissa Fehr
Age: 38
Location: London
Favourite distance: Half Marathon
Favourite running shoe: Vivobarefoot
Favourite clothing brand (for running): As an activewear designer, I run almost exclusively in my own designs, sewn by myself – FehrTrade.com
I had a life-saving bone marrow transplant in 2009 from an anonymous donor, I had hypoplastic MDS, which is a bone marrow failure disorder that is sometimes classed as a cancer, sometimes not.
Since the transplant, I've run seven full marathons (including three Boston Qualifiers) and countless half marathons and shorter distances. I joined Run dem Crew in 2011, I got one of the faster guys in the crew to helpfully pace me at Clapham. We didn't hit the 20min target, but coming home as First Lady was a nice surprise!
I started running around 2002, so I was a runner and very fit before I got ill – it's one of the things the doctors say helped me survive the transplant and recover to a high level. Before my transplant, I only raced 10km though, and since my transplant, I've gradually increased my distances up to the marathon (and a "barely ultra"!). It took me quite a few years to beat my pre-illness 10km PB, though, but it was a huge milestone when I finally did!
The World Transplant Games (WTG) is an international sporting event for transplant athletes. It demonstrates the physical success of transplant surgery and the ability of transplant recipients to lead healthy, normal lives. The event aims to significantly enhance the understanding and acceptance of organ donation.
This year it'll be my second time donning the Great Britain vest, having previously competed in the WTG in 2015 in Argentina, winning 6 gold medals (4 individual and 2 team) plus setting a new world record in the women's 1500m. Team GB is the largest it's ever been, at 200 transplant athletes, and I am one of them – I'll be competing in the Road Race (5km) and on the track; the 1500m, 800m, 400m, and 4x400m relay.
Even though the WTG are an International Olympic Committee-sanctioned event, we receive no funding from Sport England and all us athletes have to fundraise in order to pay the accommodation, competition insurance, transport, and training costs.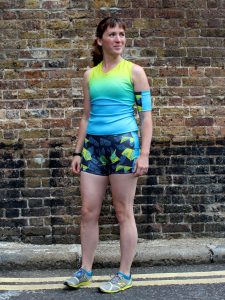 We wish the best of luck to Melissa at the end of the month, and you can see her fundraising page HERE